SendSites Compliments Tripleseat Elegantly
If You are Using Tripleseat, You Need SendSites to Win more Weddings at your Venue
Tripleseat is a powerful tool. It streamlines getting a bride detailed information for rates and fees and prevents sticky situations like double-booking. We love Tripleseat.
But you'll never meet your sales goals with grids and charts alone.
To increase your win rate, you need proposals full of beautiful photos, videos, and virtual tours to show off your property. You need to curate a proposal for each bride to match her vision of the most important day of her life! Show her, don't tell her, that your property is the one to make her dreams come true.
That's where SendSites comes in. We provide a no-stress way for salespeople to create proposals that grab attention and increase win rates. Don't rely on clunky Word docs to communicate the grandeur of your venue. Virtually immerse the bride and groom into your property!
With SendSites you can quickly & easily:
Start with a template that's already 90% complete and on brand
Embed photos and videos
Present activities & amenities
Show room block & agenda grids
And it looks great on any device!
Once the bride wants to reserve a date, Tripleseat is ready to solidify the booking.
It's a beautiful partnership.
Don't take my word for it, hear from a valued customer: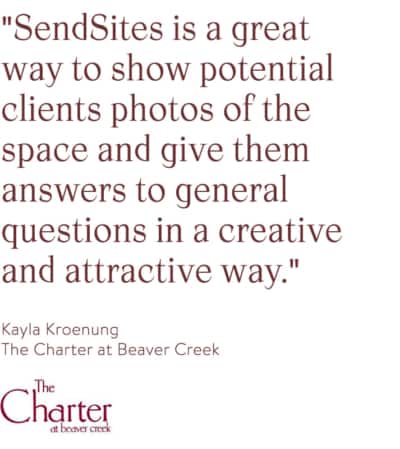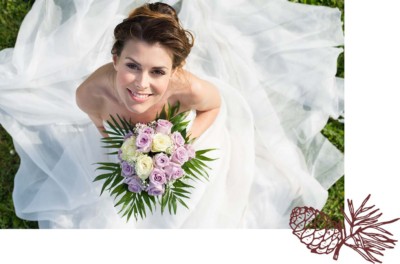 "I get approximately 10 wedding inquiries a week and I use SendSites to catch their attention and get curated information out to the client. It's a great way to show potential clients photos of the space and give them answers to questions in a creative and attractive way. If a bride or groom wants to reserve a date and see a more detailed proposal, I create a booking in Tripleseat."
Kayla Kroenung
The Charter at Beaver Creek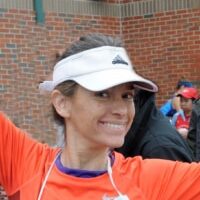 Ashleigh is not a professional writer but rather just passionate about SendSites as a web-based sales communication platform that enables modern sales teams to capture their audience with compelling, personalized content for both proposals and prospecting.
Thank you The Charter at Beaver Creek for permission to use your comments and photography!
Focus Less on Building Proposals
Schedule a 20-minute demo to learn more about how SendSites can help your team be more productive and create winning event proposals.